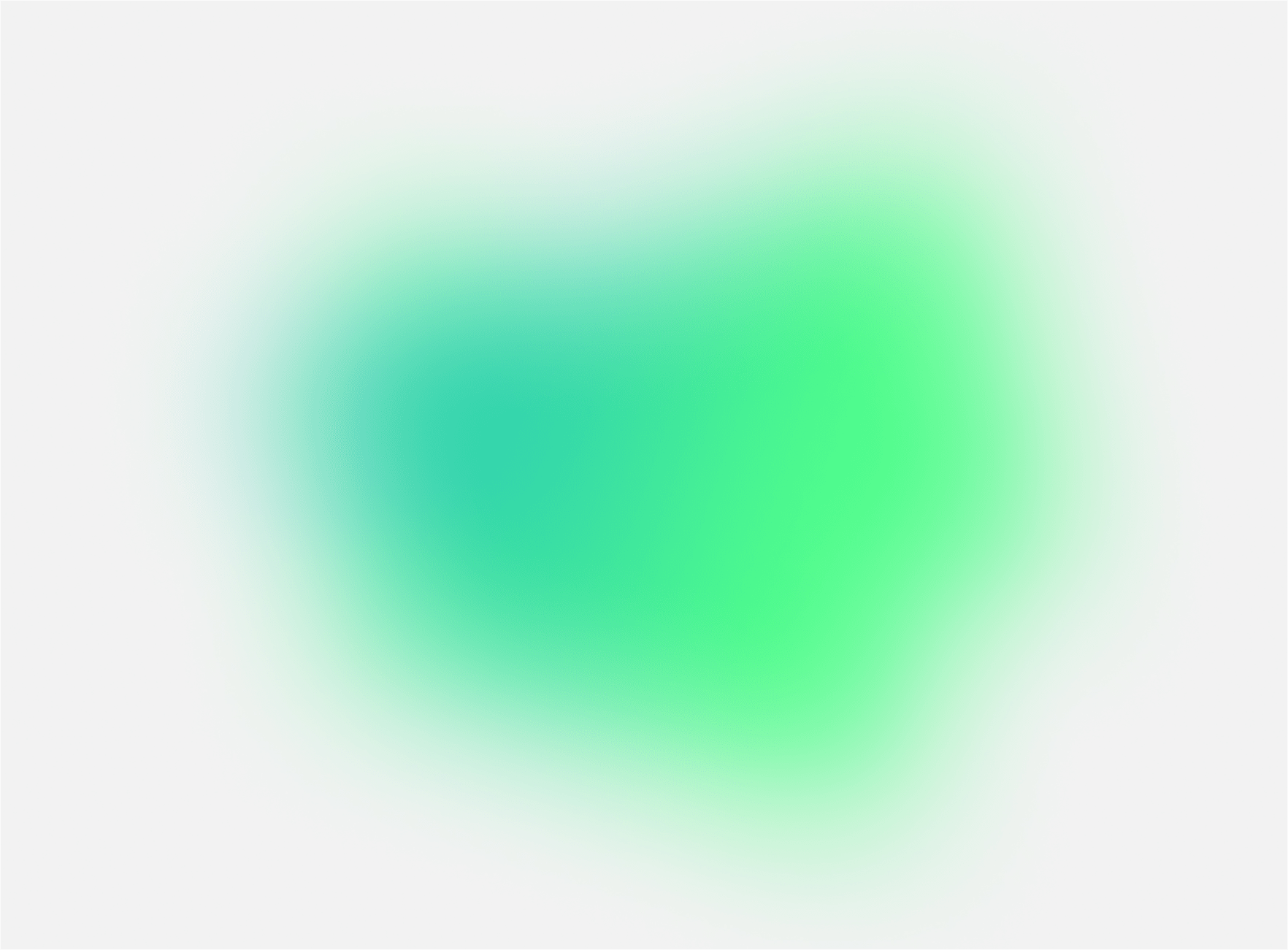 Kaspersky Digital Footprint Intelligence
Monitoring external threats for companies' assets in Surface, Deep and Dark web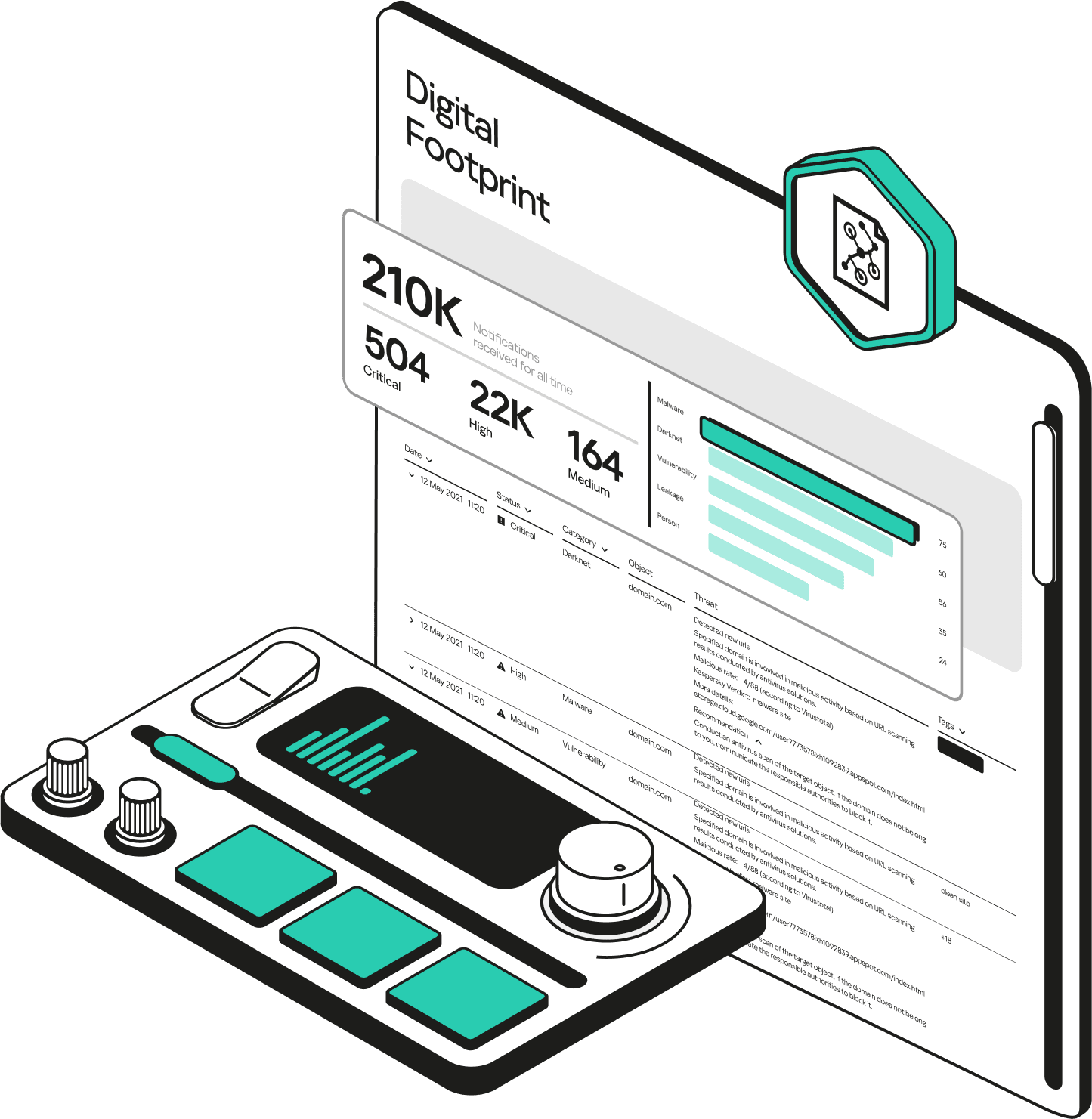 Kaspersky Digital Footprint Intelligence
Monitoring external threats for companies' assets in Surface, Deep and Dark web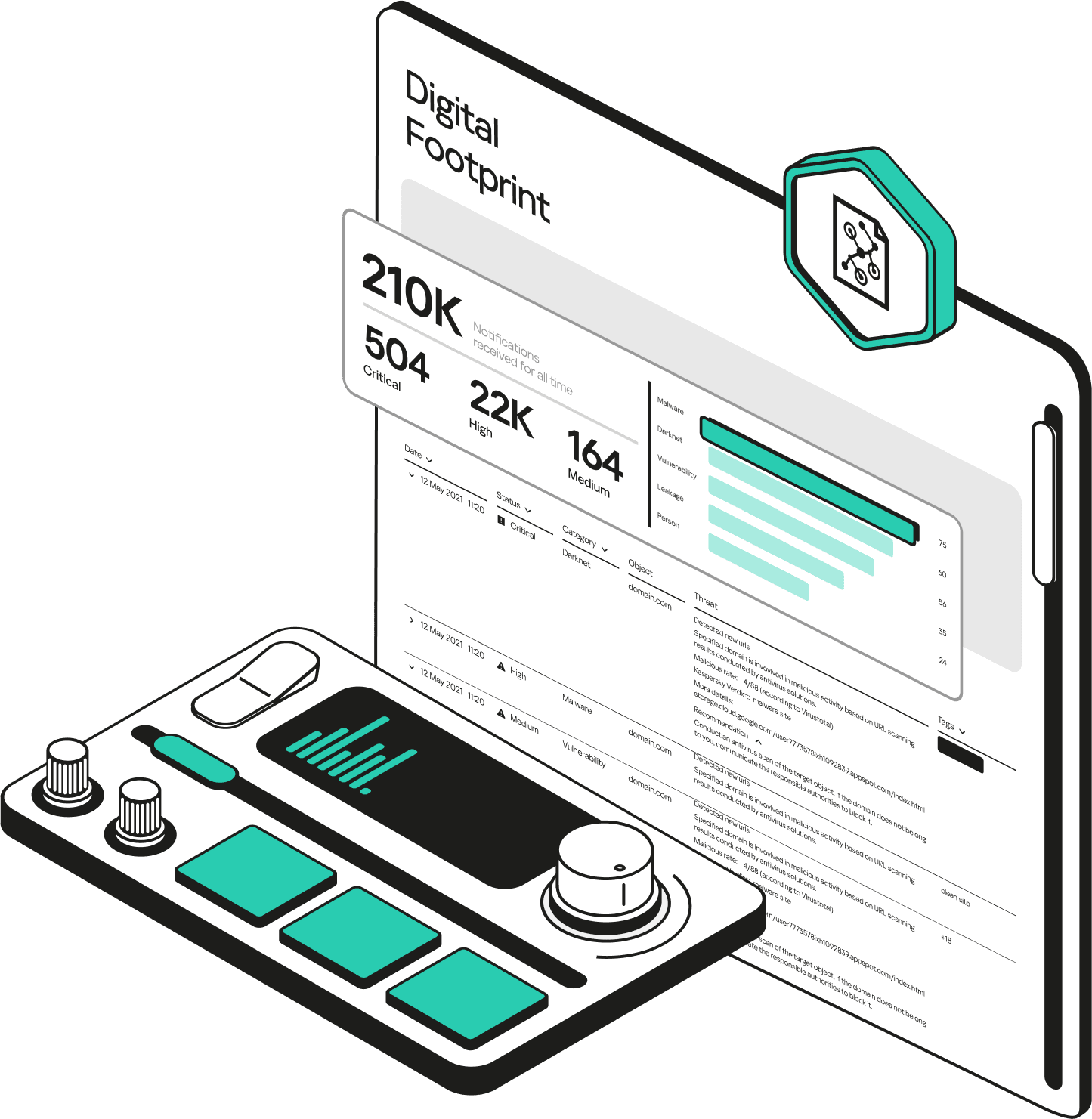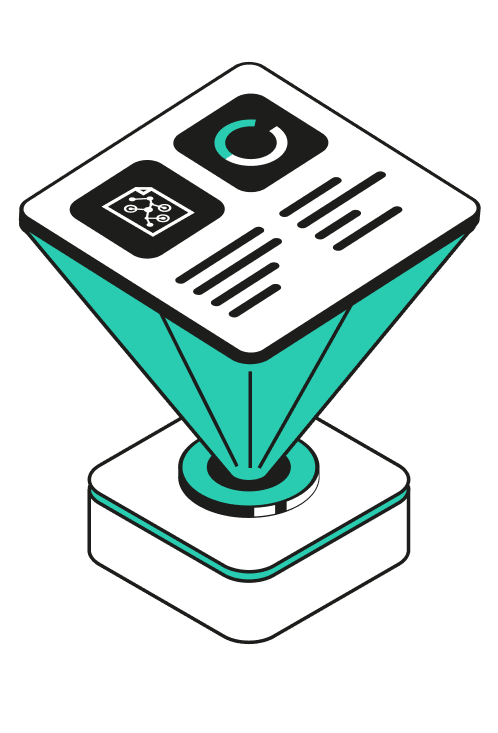 Digital Footprint Intelligence
Read a datasheet
340М

leaked accounts analyzed

500K+

Darkweb posts analyzed daily

2.5М

infostealers data analyzed daily

1.3M

phishing attacks caught daily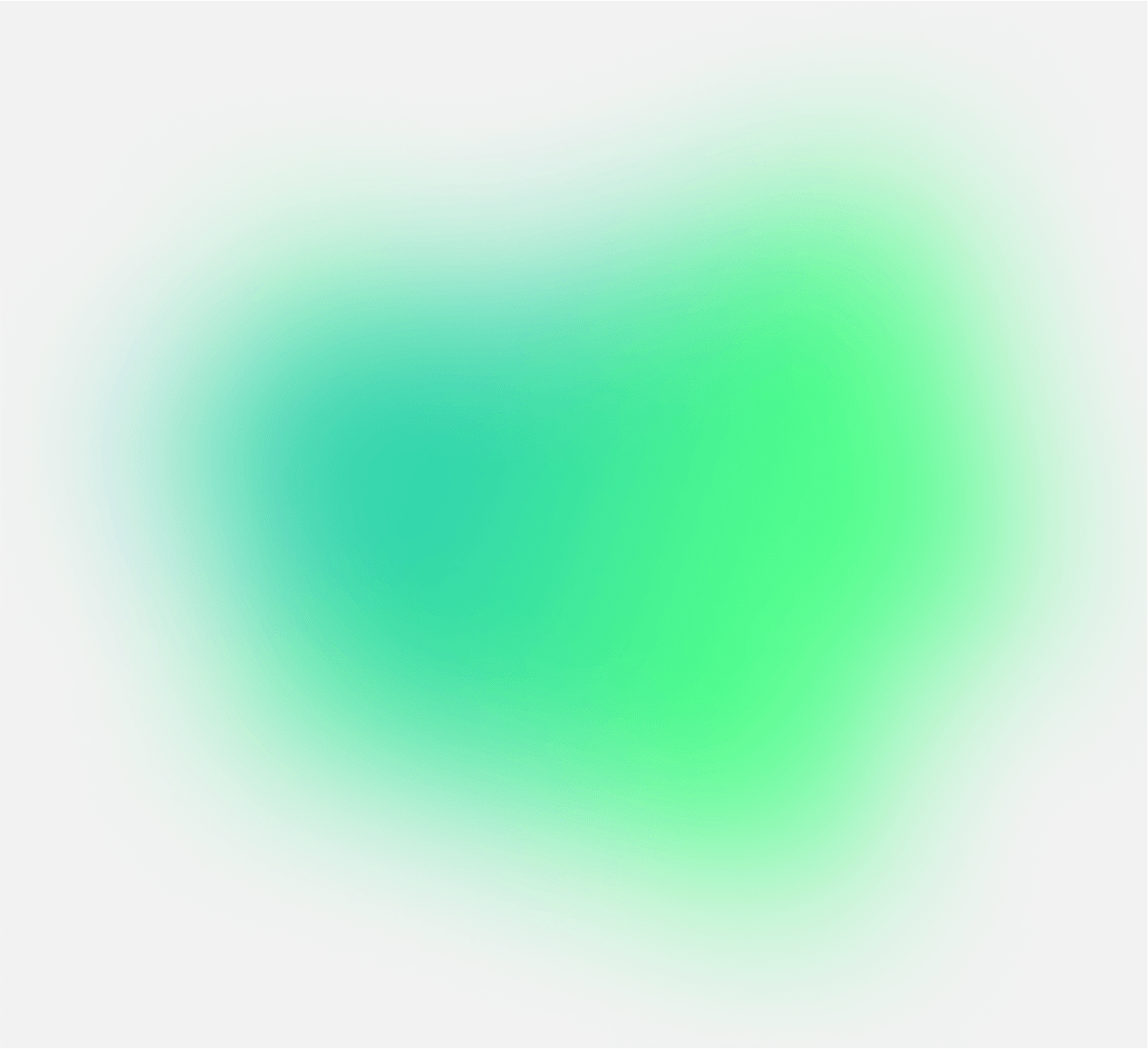 Enable external threats monitoring with Kaspersky
Overview
Kaspersky is the single vendor that enterprises can rely on to mitigate all types of internal and external security risks and protect digital assets.
As your business grows, so does the complexity and distribution of your IT environments.
Kaspersky Digital Footprint Intelligence is a comprehensive digital risk protection service that helps customers to monitor their digital assets and detect threats from Surface, Deep and Dark web.
With real-time alerts Kaspersky Digital Footprint Intelligence enables organizations to respond quickly and effectively to potential threats. Analytical reports complement these data with finished intelligence from our experts providing insights into cyber security risks and recommendations on how to mitigate them.
Which threats do we cover?
How it
works

?
Configure

Configure

Identification of the customer's digital assets:

IP adresses
Domain names
Brand names
Employees
Applications
Associated keywords

Collect

Collect

Automated data collection from multiple data sources:

Public systems and sources
Surface, Deep and Dark web
Kaspersky Knowledge Base

Filter

Filter

Data analysis by experts:

Filtering and categorization
Prioritization
Verification
Enrichment with cumulative expertise

React

React

Customer notification and reaction:

Real-time alerts in Threat Intelligence Portal
Reporting and communication with dedicated analyst
Takedown service
Top benefits
Why to choose us
Real-time alerts on emerging threats
Unique knowledge base
Custom threats and tailored approach
Reputable expertise combined with automation
Top benefits
Why to choose us
Real-time alerts on emerging threats
Continuous monitoring on companies' digital assets
Proactive alerts on new threats with action points for reaction
Unique knowledge base
Great coverage of Darkweb resources, including private forums with limited access
Continuous discovery of new data sources with valuable data, categorized and filtered by analysts
Custom threats and tailored approach
Information about threats relevant for your organization
Flexible formats of deliverables and integration with solutions
Reputable expertise combined with automation
Valuable insights and finished intelligence prepared by dedicated analysts
Strategic and short-term recommendations for risk mitigation and protection
Suitable

for

Any organization struggling to identify exposed digital assets at risk, enhance business resilience and improve security posture to prevent future threats and business operational impact, especially in the following industries:
Awards and recognitions
Kaspersky products are regularly assessed by world-leading research firms and our ability to help companies and customers protect themselves and thrive in the face of change has been widely recognized — and proven.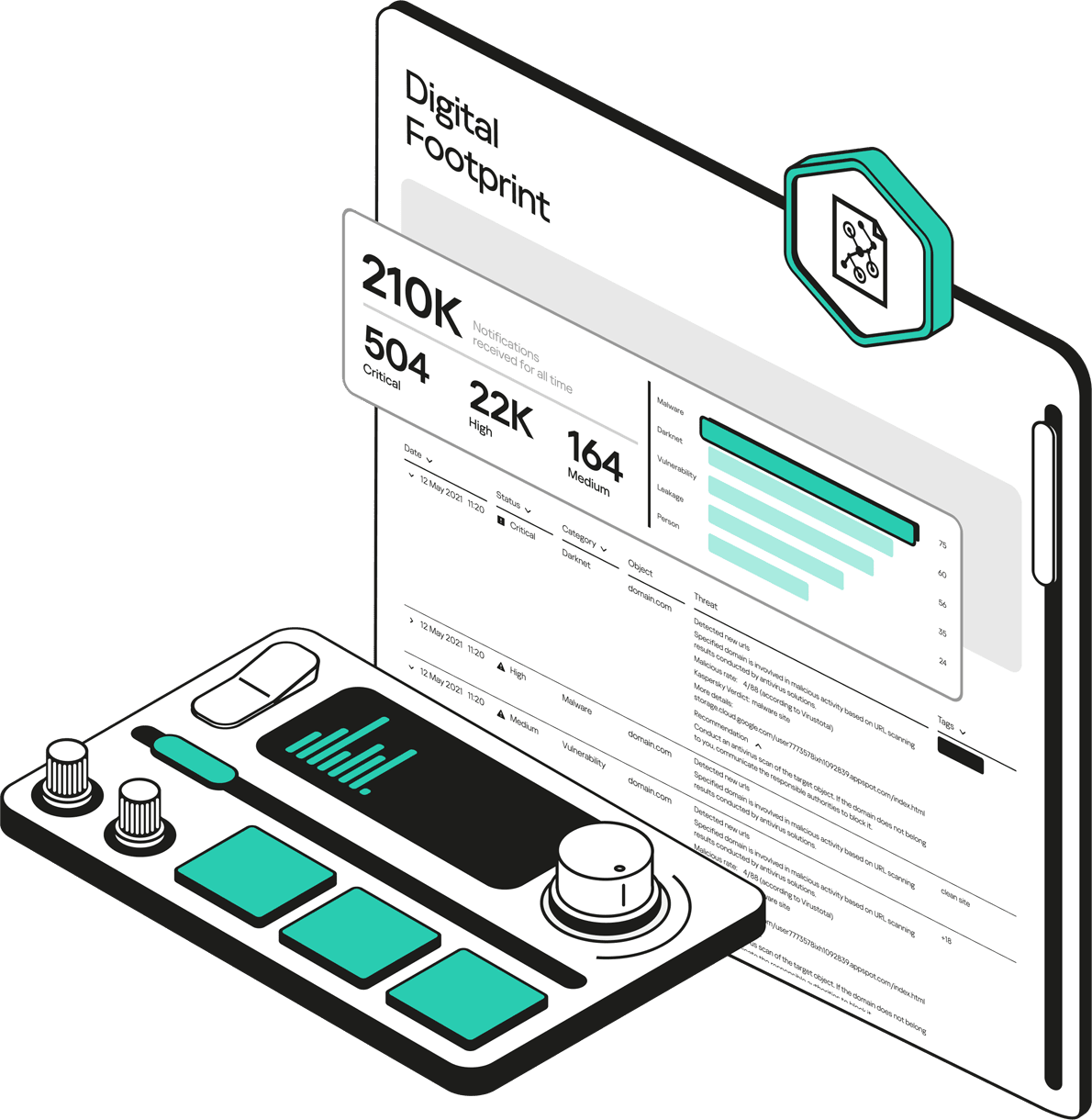 Request a demo
Complete the form below to request demo access to our service and learn more about external threats relevant to your organization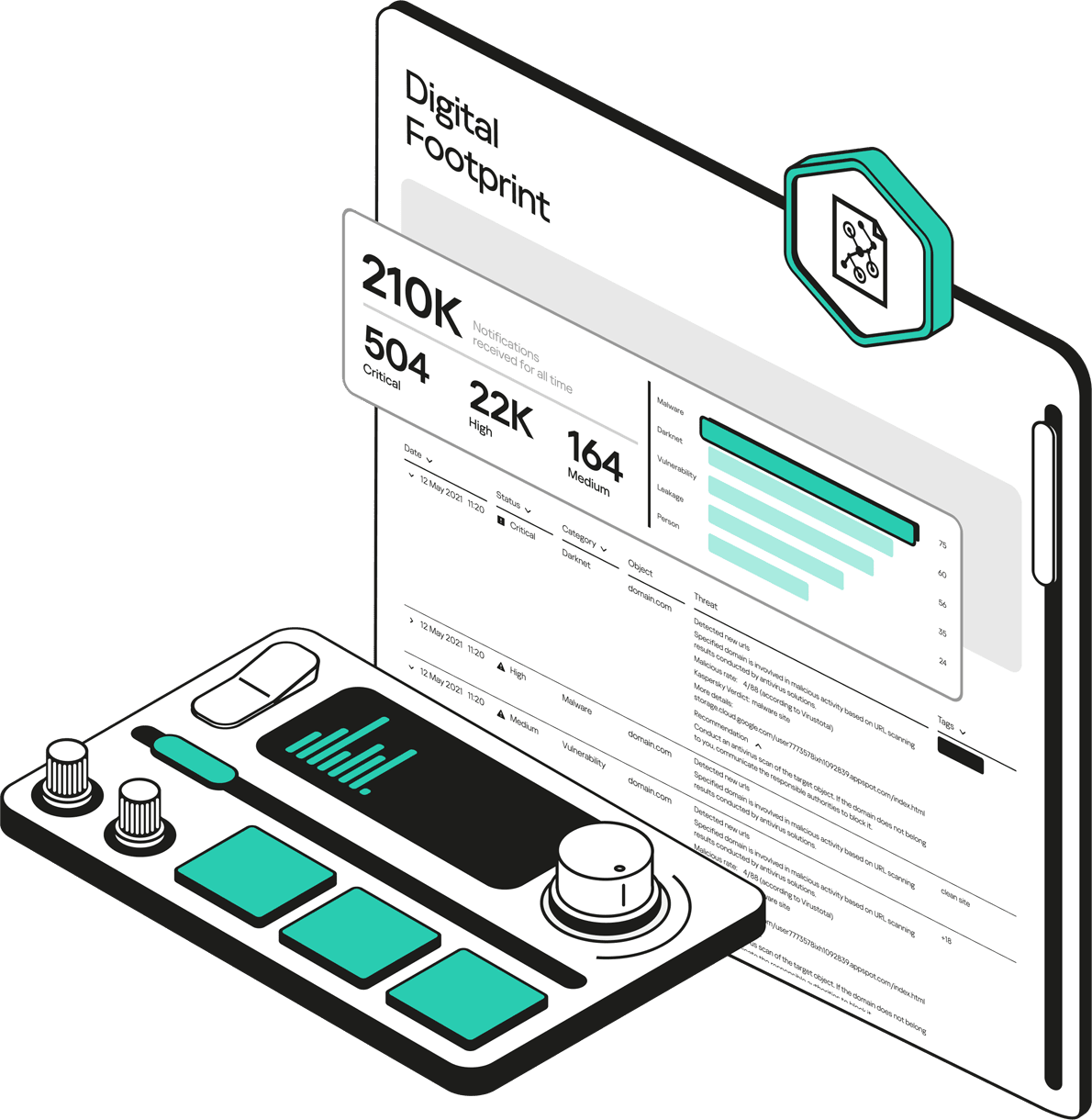 Request a demo
Request

a demo

If you'd like to find out how to protect your business from complex cybersecurity attacks, with the most tested, most awarded product on the market, please contact us.